When Apple first launched the iPad way back in 2010, the world rejoiced. It was a giant iPhone minus the phone—what's not to love? Watching movies on the go and playing all the hot new mobile games on a big, vibrant screen was truly awesome.
Just like iPhones, iPads are fragile and not immune to hardware and software issues. Also just like iPhones, we can fix just about any issues you might encounter: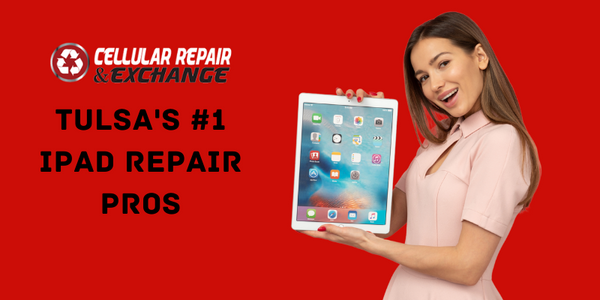 I walked in 10 minutes before they closed and Corey was able to fix my phone within 5 minutes! I have taken my phone to Corey 3 different times. I'm thankful that I can avoid the apple store, saving time and money. He has resolved all my phone issues quickly and at a affordable price. I will continue to do business with Corey.
Cracked screens & back glass:
We can replace both the front screen and back glass in as little as 15 minutes!
Battery charging issues, including battery replacement:
iPad's non-removal batteries only last about 2 years. We can swap in a new one no problem.
Loose or no connection in charging port:
A quick clean out of the dust and lint in your charging port will usually clear this up.
Water damage:
This is a difficult one and not a guaranteed fix, but we can disassemble your iPad and try our best to dry it out.
Display & feedback issues:
Sometimes touchscreens act up in a number of ways. We'll take a look and see what's going on.
Broken or unresponsive buttons:
If your home, power or volume buttons are stuck or not responding, fear not! We can fix or replace them.
Speaker & microphone issues:
Getting muffled audio or no audio at all? You could be looking at faulty hardware that we can swap out.
Software & iOS issues:
The iOS platform and the millions of apps out there don't always play nice together. If you're experiencing lagging or crashing apps or sudden phone restarts, bring your phone in and we'll take a look!
On the other end of the timeline of Apple's revolutionary mobile devices, the iPod was the biggest and best mobile music and media player for a decade or so (sorry, Zune), starting way back in 2001 with the first generation of iPods. 
Apple released 6 generations of their iPod Classic, 2 iPod Minis, 7 iPod Nanos, 4 iPod Shuffles, and 5 generations of the iPod Touch. We can fix all of 'em.
Our comprehensive iPod repairs cover cracked screens, display issues, audio issues, liquid damage, and much more. If you have an older generation iPod with music on it that you don't want to lose, bring it in to us before you trash it and buy a new one.
We're always happy to help you no matter the issue, and our fast and professional service is second to none. Give us a call, contact us here, drop off your device at our store, or ship it in, and we'll have your iPad or iPod repaired in no time at all!
They were wonderful! Took my daughter's cellphone in that had a broken charger stuck in it. Within five minutes he had it out and fixed. And did not charge us a huge price!!